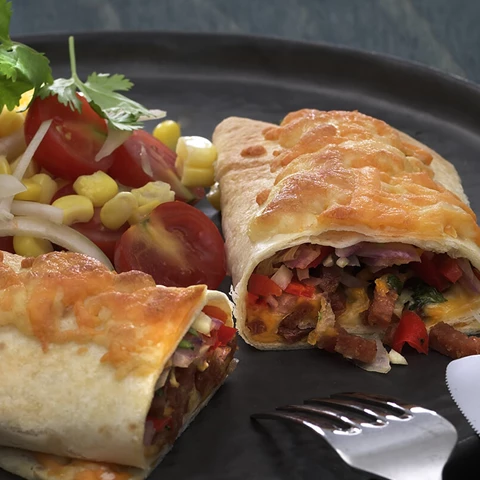 Enchilada with Pork Luncheon Meat
Ingredients
340 g Tulip Pork Luncheon Meat
20 g flour
1 red onion
2 cloves garlic
1 red chili
1 handful coriander
200 g grated cheese
4 tortillas
Vegetable oil
Salt
Oil
Freshly ground pepper
SALAD
Tomato
Sweetcorn
Chopped raw onion
Print recipe
Procedure
Heat the oven to 200 °C / 390 °F.
Cut the Pork Luncheon Meat into short strips. Mix flour, salt and freshly ground pepper. Coat the Pork Luncheon Meat strips in the flour mix. Fry the strips in vegetable oil until golden.
Peel and dice the red onion. Peel and finely chop the garlic. Rinse the chili, remove the seeds and cut into strips. Chop the fresh coriander.
Mix the fried Pork Luncheon Meat strips, red onion, garlic, chili strips, coriander and grated cheese (keep 2 tbsp grated cheese).
Dip the tortillas in oil, add all ingredients, roll and sprinkle with grated cheese on top.
Bake in the oven for 10 minutes.
Serve the enchiladas with a salad of tomato, sweetcorn and raw onion. Enjoy.