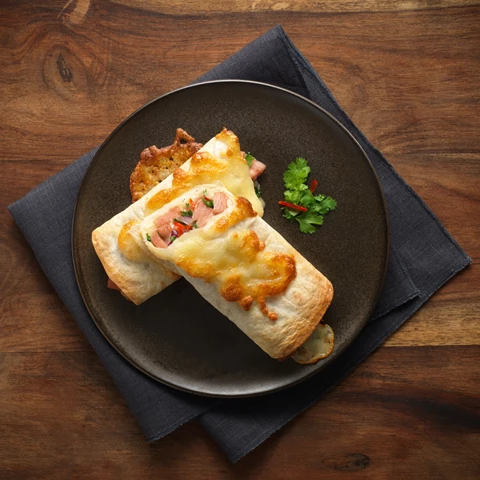 Cheesy Pork Enchiladas
Ingredients
340 g Tulip Jamonilla®
1 red onion
2 cloves garlic
1 red chili
1 handful cilantro
200 g grated cheese
4 tortillas
Vegetable oil
Salt
Oil
Freshly ground pepper
Print recipe
Instructions
Preparations and filling  
Heat up the oven to 200

°C

/390

°F

. 

 

Peel and dice the red onion and chop the garlic finely. Rinse the chili, remove the seeds, and cut them into strips. Chop the fresh cilantro.

 

Cut the

pork luncheon meat

into squares. 

 

Heat some oil over medium-high heat and add the onion, garlic, and chilies. Fry until translucent and soft.

 

Add the diced pork and fry until golden.

 

Season with salt and pepper.

 

Mix all ingredients and add 2 tablespoons of grated cheese. 

 
Assemble the enchiladas  
Lay out a tortilla and spread 2-3 tablespoons of filling over the surface. 

 

Roll and place it in a baking dish greased in vegetable oil. 

 

Continue this until all tortillas have been placed in the baking dish. 

 

Finish off by adding the rest of the shredded cheese on top. 

 

Put the dish in the oven and bake for about 8 minutes or until the cheese is bubbly and the tortilla is golden. 

 
Serving  
Serve the enchiladas hot with a side of salad, tomato, sweet corn, and raw onion.

 

Enjoy!
Tip
For a more filling variant of this recipe, you can add salsa or black beans, or you can serve with a side of beans and rice to ensure that you're left full and satisfied. For a creamier and greasier version serve the enchiladas topped with sour cream or guacamole – or even both.
Enchiladas are also ideal for meal prepping, as you can freeze the enchiladas for later use.