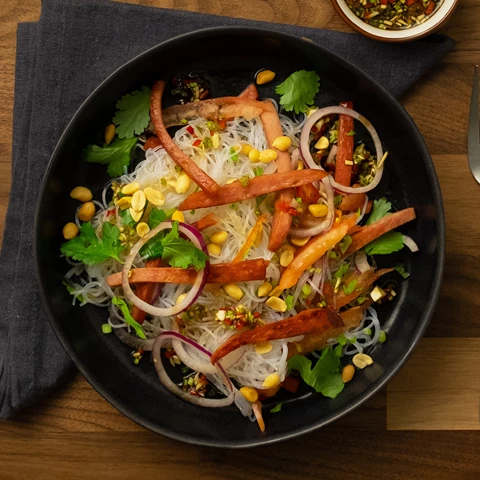 Vermicelli Noodle Saladwith Pork Luncheon Meat
Ingredients
340 g Tulip Jamonilla®
400 g green bean vermicelli
100 g red onion
3 tomatoes
150 g chinese celery
20 g cilantro
2 chilies
3 tbsp roasted peanuts
4 sesame rice cake
Sauce
3 small chilies
4 cloves garlic
2 tbsp lime juice
4 tbsp sugar
2 tbsp fish sauce
10 g cilantro roots
Print recipe
Instructions
Food preparation 
Cut the

pork luncheon meat

into slices. Place a pan over medium-high heat and cook the meat in some oil until golden and crisp. Let it drain on some paper towel.

 

Slice the red onion and celery. Use a mandolin slicer to get extra-thin slices. Put the sliced onion in cold water to make it crisp and get rid of the strong taste.

 

Scoop the tomato seeds and cut the rest into thin strips.

 

Wash the green bean vermicelli noodles. Fill a large pot with water and wait for it to boil. Add the noodles to the boiling water for one minute, then pour them into a colander to drain

 

Finally mix the noodles with the

pork luncheon meat

, tomatoes, red onion, and Chinese celery.

 
Making the sauce 
Chop the cilantro roots, mince garlic, and finely chop the chilies.

 

Mix fish sauce with chilies, garlic, sugar, lime juice, and then stir the mixture. Pour the sauce on the vermicelli and mix.

 
Serving 
Cut the chilies diagonally, chop the cilantro, and crush the roasted peanuts. 

 

Place the vermicelli salad on the dish. Sprinkle with roasted peanuts and cilantro on the surface.

 

Serve right away with a sesame rice cake on the side.

 

Enjoy!

 
Tip
Swaps and substitutions 
If you don't have green bean vermicelli noodles, egg noodles are a great alternative for this salad.
If you want more vegetables in your salad, you can also include shredded lettuce, red or green cabbage, spring onions, and fresh herbs like Thai basil or mint.
Give the noodle salad a sweet and pickled touch by adding Do Chua - Vietnamese daikon radishes and carrot pickles. The pickles are traditionally served on banh mi sandwiches and Vietnamese bun salad.
See the recipe as a video