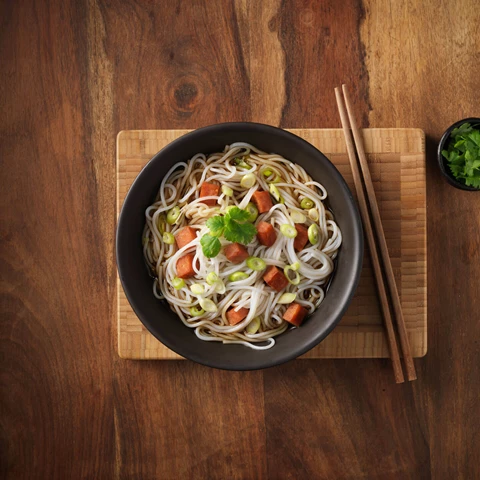 Rice Noodleswith Pork Luncheon Meat in Sweet Ginger Sauce
Ingredients
340 g Tulip Pork Luncheon Meat
200 g rice noodles
2 tbsp soy sauce
2 tbsp rice wine vinegar
1 tbsp sugar
2.5 dl water
3 spring onions
Fresh ginger
Fresh coriander
Oil
Print recipe
Instructions
Dice the Pork Luncheon Meat and finely cut the spring onions.
Sauté the Pork Luncheon Meat in oil until golden. Add the soy sauce, vinegar, ginger, sugar and water and bring to a boil. Add the chopped spring onions and leave to simmer for a couple of minutes.
Boil the noodles as instructed on the packaging.
Arrange the rice noodles and Pork Luncheon Meat in sweet ginger sauce and sprinkle with fresh coriander and serve.