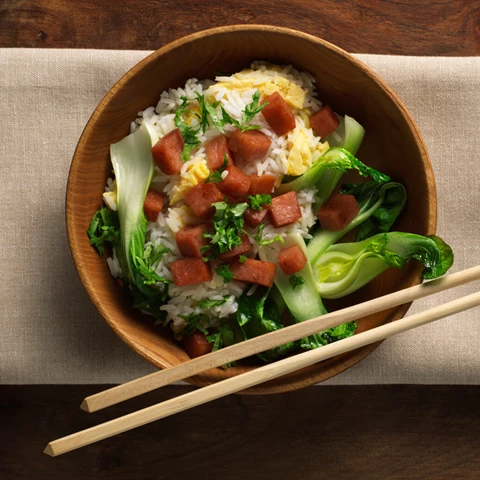 Chinese Rice Recipe with Luncheon Meat
Ingredients
200 g Tulip Jamonilla®
1 pak choi
1 egg
4 tbsp soy sauce
600 g of long grain rice (cold)
Fresh cilantro
Fresh ginger
Oil
Spring onions
Garlic
Print recipe
Instructions
For this dish and fried rice recipes in general, it is ideal to use cold rice as warm rice will not fry on the pan. Overnight or cold rice is also best for stirring as they are drier and less sticky than freshly steamed rice. If you do not have rice leftovers, you can cook the rice in the morning or a few hours before you need to use them.  
However, it is possible to make the dish without leftover rice if you follow these instructions: 
Cooking and cooling of the rice 
If you don't have cold rice, you should start by cooking the rice. The traditional rice type for Chinese recipes is long-grain rice like Basmati or Jasmin rice, and we suggest that you use these for this dish as they have a drier texture. 

 

When the rice is done you spread it out on a baking sheet. 

 

Drape it with a layer of plastic wrap and put it in the fridge for 30 minutes until it's chilled.

 
Preparations  
Slice the pak choi and spring onions.

 

Chop the garlic and the ginger finely. 

 

Dice the

pork luncheon meat

into the desired size. 

 

Break up the lumpy rice with your hands or the back of a spoon. 

 
Stir together  
Heat some olive oil in a wok on medium-high heat. Toss in the ginger and fry for a few minutes. 

 

Add the pak choi and

pork luncheon meat

and keep frying for 5 minutes. 

 

Turn down the heat to medium-low and add garlic and spring onions. 

 

Add in the eggs and cook until they turn into nice and regular pieces. 

 

Add the rice and soy sauce. Keep stirring and frying the rice with a back-and-forth motion. 

 

Take off the stove and serve with finely chopped cilantro on top.

 

Enjoy!

 
Tip
Swaps and substitutions  
If you are looking for a more colorful meal, you can simply add more vegetables to your fried rice. The possibilities are endless when it comes to putting your personal touch on this dish.