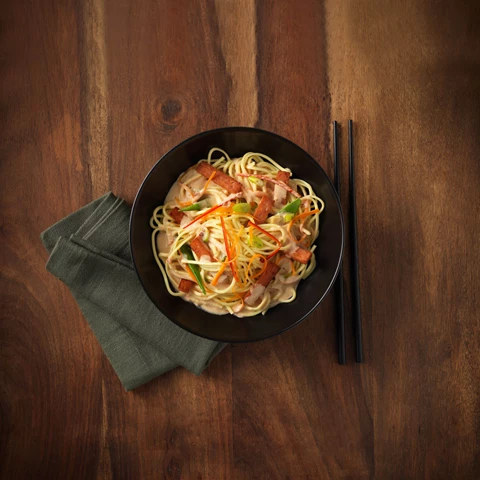 Hot Thai Pork Currywith Pork Luncheon Meat and Vegetables
Ingredients
340 g Tulip Jamonilla®
200 g sugar peas
200 g noodles
2 tbsp red curry
800 ml coconut milk
1 tbsp peanut butter
2 dried lime leaves
2 chilies
6 spring onions
2 carrots
1 tbsp fish sauce
1 tbsp lime juice
Fresh cilantro
Oil
Print recipe
Instructions
Prep the ingredients  
Cut the chilies into thin strips and cut the

pork luncheon meat

into the desired size.

 

Cut the sugar peas in halves, the spring onions diagonally, and the carrot into fine strips. 

 

Boil the noodles accordingly to the cooking instructions on the packaging. 

 

Let the noodles drain in a colander. Set aside. 

 
Combine the curry   
Heat up some oil in a large wok. Add two teaspoons of red curry and the

pork luncheon meat

and fry until the meat turns golden. 

 

Add the vegetables and chilies and stir-fry until soft. Combine the coconut milk, peanut butter, and dried lime leaves in the wok, and bring it to a boil for about 2-3 minutes.

 

Turn down the heat and let the curry simmer for about 5 minutes. 

 

Mix in the noodles and toss around until they are covered with the curry sauce.

 

Season the dish with fish sauce and lime juice.

 

Add the Thai curry to a serving bowl and decorate with finely chopped cilantro, a couple of chili slices, and fresh lemon wedges. 

 

Enjoy!

 
Tip
Swaps and substitutions  
Curry is a cozy and comforting dish, and this curry recipe is no exception. It's slurpy and spicy – and has endless ways to vary the ingredients. Try with some different vegetables or serve it with rice instead of noodles.