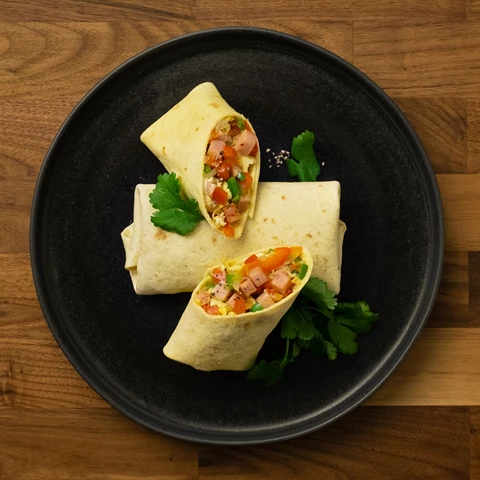 Breakfast Burritowith Scrambled Eggs, Onion, Bell Pepper, and Pork Luncheon Meat
Instructions
Filling 
Slice the

pork luncheon meat

into small cubes. 

 

Chop the onion and bell peppers finely. 

 

Whisk the eggs in a medium bowl. Season with salt and pepper. 

 

Heat a large nonstick pan over medium-high heat. Add the sliced

pork luncheon meat

and fry for a couple of minutes until golden. 

 

Add the pepper and onion to the pan and cook until soft. Remove the

luncheon meat

and vegetables from the pan.

 

Reduce the heat to low, add a bit of oil and the eggs. Scramble until fully cooked.

 
Assemble the burrito 
Lay out a tortilla and spread the filling equally on the two tortillas. 

 

Bring the sides of the tortilla to the center and roll while tucking in the edges. 

 

Optional:

Heat some oil over medium heat and add the burritos. Cook until golden brown (about 3 minutes). Remember to flip the burrito so it cooks evenly on all sides. 

 

Serve the breakfast burritos hot.

 

Enjoy!

 
Tip
Swaps and substitutions 
Add shredded cheese to your breakfast burrito for a greasier version. Add the cheese on top of the hot scrambled eggs for it to melt.
If you want an even more filling version of the breakfast burrito, simply add rice or shredded hash brown potatoes.
Play with the flavors by adding fresh herbs such as cilantro, or homemade spicy salsa.
Get more delicious brunch recipes
Meal prep inspiration 
Breakfast burritos are a quick breakfast dish for busy mornings, but you can make it even quicker. Try freezing the burritos and discover the perfect grab-and-go breakfast for when you're in a rush. Heat the burritos in the microwave for about two minutes and breakfast is served.
See the recipe as a video