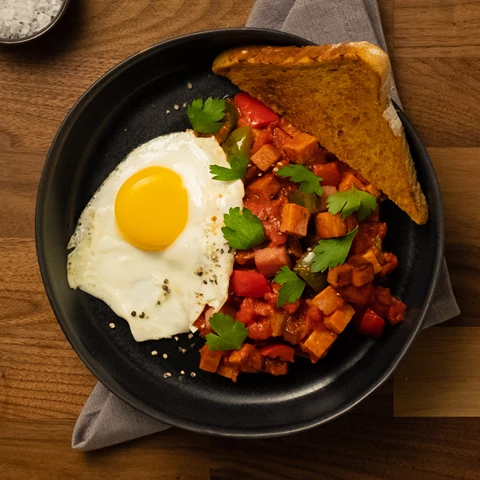 Ranch-Style Eggs with Pork Luncheon Meat
Ingredients
340 g Tulip Jamonilla®
8 eggs
1 can of chopped tomatoes
1 green bell pepper
1 red bell pepper
1 onion
Salt
Olive oil
Freshly ground pepper
Toast bread
Print recipe
Instructions
Cook the sauce  
Rinse the bell peppers.
Finely chop the peppers and onion and cut the

pork luncheon meat

into smaller pieces.

Heat the oil in a medium-high pan and sauté the

pork luncheon meat

, bell peppers, and onion. When it's crispy you add the chopped tomatoes. Let the mixture boil for a few minutes.
Fry the eggs  
Warm up another frying pan and add one tablespoon of olive oil.
Crack the eggs one by one and pour them into the frying pan.
Fry the eggs for about 2 minutes until they are set. A great tip is to pour some of the oil from the frying pan over the egg, so it fries better.
Serving 
Serve the fried eggs with the delicious mixture of vegetables and

pork luncheon meat

and some toast on the side. 

Top it off with salt and fresh herbs of your choice.
Enjoy!
Tip
Reuse the same pan for the vegetables and eggs to avoid the extra dishwashing. 
Swaps and substitutions 
If you're into Mexican food, you can swap the toast with tortillas that have been fried on a hot pan with some oil for about 7 seconds on each side. Alongside you can make some fresh guacamole and top it off with finely chopped cilantro.