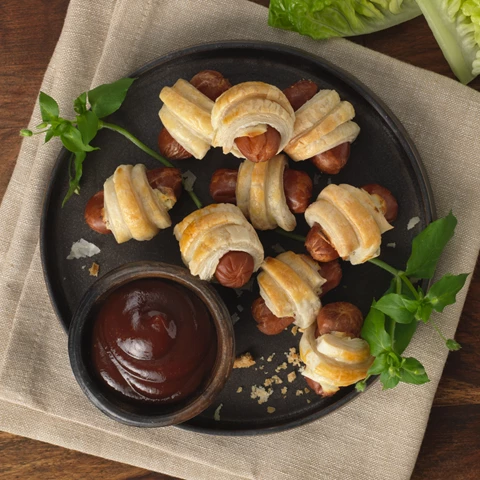 Tulip Sausage Rollswith Puff Pastry
Instructions
Pre-heat the oven to 350 

°F

or

180 °

C

.

 

Drain the

Tulip sausages

. 

 

Heat some oil in a pan over medium-high heat. Cook the sausages until golden and set aside.

 

Cut the puff pastry sheet into smaller pieces – each piece must have the width of a cocktail sausage and be long enough to wrap around the cocktail sausage and stick to the puff pastry.

 

Spread cream cheese on one end of the puff pastry – but keep the edges free of cream cheese. Add a cocktail sausage and roll. Make sure to seal the edges so the sausage roll won't open. 

 
Tip: Brush down one side of the puff pastry with egg wash to make it easier to seal the edges. 
Repeat the procedure with the rest of the puff pastry sheet and sausages.

 

Brush the top of each roll with an egg wash and bake for 15 minutes or until golden.

 

Blend the guava paste with water until it forms a sauce.

 

Serve as a dip for the sausage rolls.  

 

Enjoy!
Tip
Swaps and substitutions 
If you fancy more flavor, you can add your favorite herbs, spices, and flavorings to the cream cheese. Chili and oregano are a great flavor combo to combine with savory sausage.  
Give the sausage rolls a more hotdog-like touch by serving them with ketchup and mustard instead of cream cheese and guava paste. This version will surely also be a crowd-pleaser.
WATCH OUR COOKING VIDEO HERE: