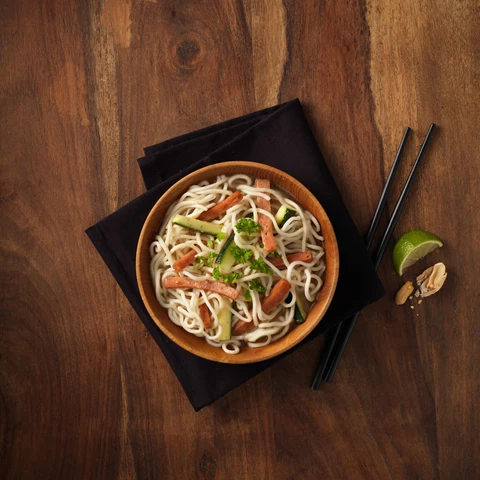 Pork in Peanut Saucewith Noodles
Ingredients
340 g Tulip Jamonilla®
200 g noodles
15 cl vegetable stock
2 tbsp peanut butter
1 tsp lime juice
1 tbsp soy sauce
1 tsp sugar
1 zucchini
Parsley
Oil
Barbecue spices
Print recipe
Instructions
Prepare the ingredients 
Slice the

pork luncheon meat

into thin strips and sprinkle it with barbecue spices. Cut the zucchini into batons.

 

Heat some oil in a pan over medium-high heat and fry the

pork luncheon meat

until crispy. Remove from the heat and set aside for later use. 

 

Prepare the vegetable stock. Then pour it into a pan with the peanut butter, lime juice, and soy sauce. Stir a little and let it simmer for about a minute. 

 

Add one teaspoon of sugar to the sauce.

 

Add the zucchini batons and boil until soft.

 
Boil the noodles and combine the dish 
Boil the noodles as instructed on the packaging. When done run the noodles under cold water to stop the cooking. Drizzle with a bit of oil and mix well to prevent the noodles from sticking together. 

 

Arrange the noodles and zucchini with the

pork luncheon meat

in the peanut sauce.

 

Sprinkle with fresh parsley. 

 

Enjoy!
Tip
Serving suggestions   
Serve the noodles with pork in peanut sauce with a fresh Asian slaw that is packed with vegetables like shredded cabbage, carrots, edamame, bell peppers, and peanuts flavored with scallions and cilantro. Another option is to serve this pork in peanut sauce with homemade spring rolls. 
If you like this recipe, you might also like: