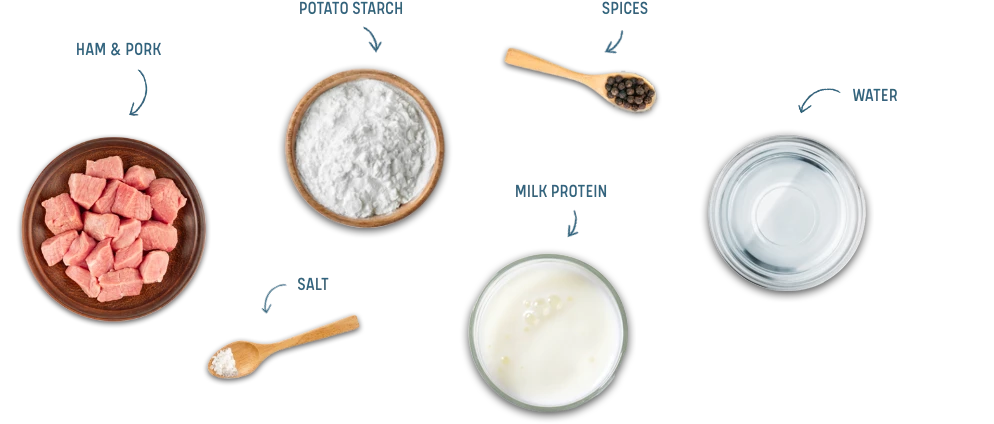 Introducing Tulip Jamonilla Natural Ingredients:





Made with 6 natural ingredients, naturally tasty

Versatile for various recipes and occasions

Convenient and ready-to-eat, perfect for quick meals
*THAN CLASSIC TULIP JAMONILLA
Explore Delicious Recipes with Luncheon Meat
Unlock a world of culinary possibilities with Tulip Jamonilla Natural Ingredients. From breakfast to lunch and dinner, this versatile luncheon meat serves as your go-to ingredient.
Start your day with a flavorful breakfast burrito, indulge in a tasty sandwhich for lunch, and try a delicious carbonara for dinner, all made with pork luncheon meat. With Tulip Jamonilla Natural Ingredients, the possibilities are endless.
Embrace the convenience and taste, as you explore a wide range of recipes for any meal of the day.
How to cook luncheon meat?
Luncheon meat offers various cooking options to suit your preferences. It can be enjoyed straight out of the can, making it a convenient choice for a quick snack. If you prefer a cooked version, you can pan-fry, grill, or bake it until it reaches your desired texture. Another popular method is using an air fryer, which results in a crispy and delicious outcome. Whichever method you choose, luncheon meat is a versatile product.
How to open Tulip luncheon meat?
To open Tulip Jamonilla Natural Ingredients, locate the pull-tab on the can lid. Pull the tab in the direction indicated to remove the lid.
Ingredients and nutritional information?
Read the product packaging or label for detailed ingredient list and nutritional information or read more about Tulip Jamonilla Natural Ingredients here.
Packaging sizes and options?
Tulip Jamonilla Natural Ingredient is available in a 300g can, providing you with a convenient packaging option for your culinary needs.
How long can you keep luncheon meat in the fridge?
Once opened, any leftovers should be transferred to an airtight container and can be kept refrigerated for 3-4 days.
How to store Tulip Luncheon Meat?
Store Tulip Jamonilla Natural Ingredients ambient.