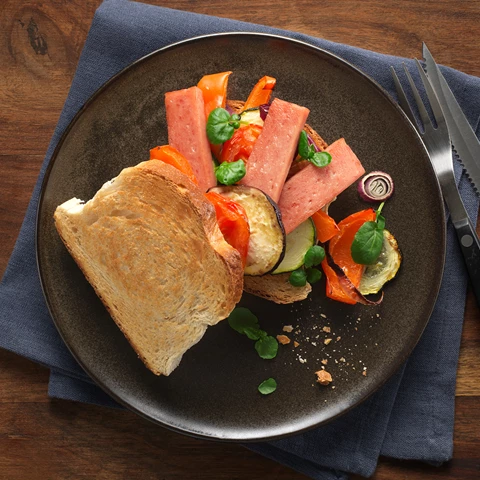 Pork Luncheon Meat Sandwichwith Baked Vegetables
Ingredients
1 eggplant
1 red bell pepper
1 onion
1 zucchini
1 tomato
8 slices of white bread
Extra virgin olive oil
Salt
Print recipe
Instructions
Bake the vegetables
Chop the eggplant, red bell pepper, onion, zucchini, and tomato in slices.
Spread the vegetables on a large baking tray and drizzle with extra virgin olive oil and salt. Mix the oil into the vegetables. 
Bake at 350 °F / 180 °C for 20 minutes.
Assemble the sandwich 
Slice the

pork luncheon meat

into strips.

Fry the meat in a non-stick pan with butter or oil until golden and crisp.
Toast the bread slices.
Place the fried

pork luncheon meat

and the baked vegetables on one slice of the bread and add another slice on top.

Eat the sandwich right away or wrap it in paper to bring it with you. Serve with a side of salty snacks and a refreshing beverage.
Enjoy!
Serving suggestions 
Serve the pork sandwich with a side of scrambled or fried eggs, and you'll have a filling and delicious breakfast.
Tip
Swaps and substitutions 
Give your sandwich a generous layer of mayonnaise, pesto, or a homemade dressing to make it creamier. Cheddar cheese, parmesan, or mozzarella will give the same cheesy and creamy taste.
Combine both fresh and baked vegetables. You could for instance add rocket salad or fresh herbs such as parsley, basil, or cilantro. 
If you prepare the baked vegetables in advance and store them in the fridge, you can make this pork sandwich in a heartbeat before going to work. 
Pork sandwich recipes 
Sandwiches are great to bring with you to work or to school. There are tons of ways to change up the filling, so it doesn't get trivial. You can also use pork luncheon meat to make Club Sandwich, egg and luncheon meat sandwich, pork burger, or a BLT sandwich.
See the recipe as a video: