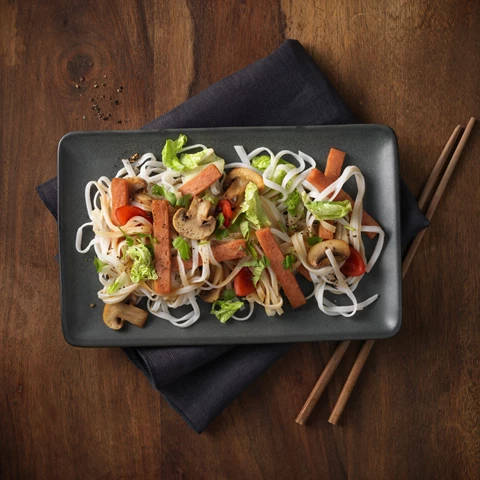 Pork Stir Fry with Noodleswith Pork Luncheon Meat, Chinese Cabbage, and Tomato
Ingredients
200 g Tulip Jamonilla®
600 g chinese cabbage
250 g noodles
3 tbsp oil
1 clove garlic
5 mushrooms
1 tomato
1 tsp salt
2 tsp soy sauce
1 tbsp potato starch
Water
Print recipe
Instructions
Prepare the filling  
Cook the noodles according to the cooking instructions.

 

Cut the

pork luncheon meat

into thin, rectangular slices.

 

Slice the cabbage and mushrooms thinly and mince the garlic.

 

Blanch the tomatoes in boiling water for 30-60 seconds. Transfer the tomatoes to cold water to peel off the skin. Cut into wedges and remove the seeds. 

 
Stir fry the ingredients 
Place a wok or large sauté pan over medium-high heat and add oil and garlic. 

 

Sauté the garlic until light brown. Add the Chinese cabbage a let it collapse for a bit.

 

Add the mushrooms and cook until soft. Then add the tomato wedges and the pork luncheon meat. Fry for two minutes. 

 

Season the stir fry with salt and soy sauce to get the desired flavor. 

 

Thicken the sauce by adding the potato starch and a bit of water. 

 

Toss in the cooked noodles and stir for a couple of minutes to mix all the ingredients and re-heat the noodles.

 

Serve hot with freshly cut herbs.

 

Enjoy! 

 
To help cook the vegetables at the same rate, make sure to cut them into similar-sized pieces.
Tip
Swaps and substitutions  
You can easily swap out the ingredients if you feel like something else – Here's a couple of ideas for what to put in a stir fry.
Meat: Luncheon meat, chicken, sausages, tofu, beef, or shrimp. 
Vegetables: Cabbage, onions, bell pepper, mushrooms, carrots, sugar snap peas, or broccoli. 
Garnish: Cashew nuts, peanuts, sesame seeds, lime wedges, cilantro, basil, green onions,  
Stir fry rice or noodles with the rest of the ingredients or serve on the side.