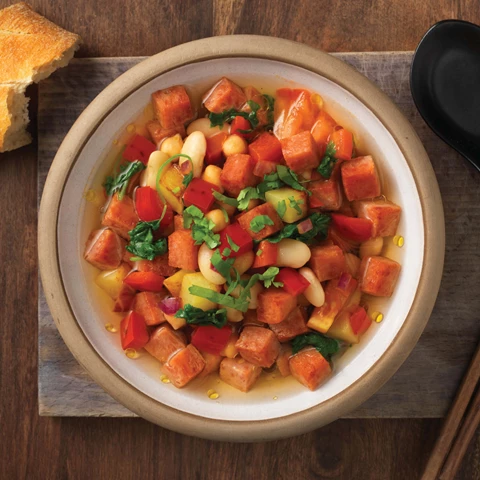 Galician Soupwith Pork Luncheon Meat
Ingredients
340 g Tulip Jamonilla®
1.25 dl white beans
1.25 dl chickpeas
2.5 dl potatoes
½ red bell pepper
½ tomato
½ onion
2 cloves garlic
1.25 dl white wine
5 dl chicken soup
Fresh cilantro
Print recipe
Instructions
Food preparation 
Dice the

pork luncheon meat

and the potatoes. 

 

Drain the white beans and the chickpeas.

 

Chop the fresh cilantro, onion, garlic, bell pepper, and tomatoes.

 

Heat a pan and fry the onion with the garlic for a few minutes. Add the rest of the vegetables and cook until they soften – remember to stir occasionally.

 

Add the wine and the chicken soup.

 

Let the soup simmer for 30 minutes over medium heat.

 
Serving 
Serve the soup hot with cilantro as the topping.

 

Enjoy!

 
Tip
Swaps and substitutions 
If you don't have all the ingredients at home, you can easily use whatever vegetables you have in your kitchen. Use carrots, celery, or pumpkin, or try with another kind of beans.  
If you don't like cilantro, you can also use parsley or any other fresh herb. 
Bread is a go-to accompaniment for soup. Use the bread to dip and absorb the delicious broth. The best bread for soup is a baguette, white bread, or multigrain.