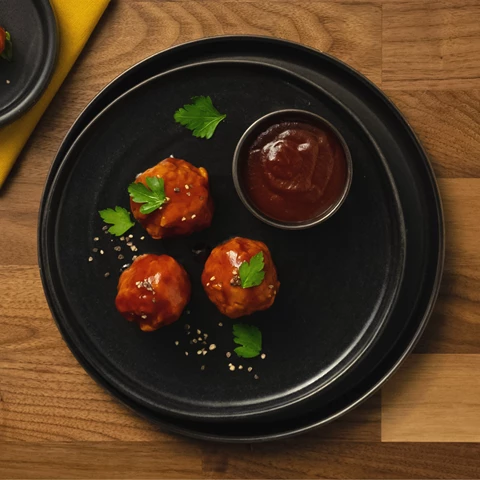 Barbecue Pork Meatballs Recipe
Instructions
Separate the

pork luncheon meat

by hand - avoid over stirring, or the meat will lose its structure.

 

Pulse the onion in a food processor or chop it finely with a knife.

 

Crack the eggs and beat them slightly.

 

Combine the mashed

pork luncheon meat

, flour, eggs, onion, and salt into a bowl and mix it well. 

 

Wet your hands or use two spoons to shape the mixture into small meatballs. Use a kitchen scale to make all meatballs the same size. This ensures the meatballs cook steadily.

 

Fill a pot with water and bring it to a boil. Add the meatballs and let them cook covered on high heat for 6 minutes. Stir the meatballs after 3 minutes to make sure they cook evenly

 

Drain the meatballs in a colander. Transfer to a bowl and stir in the barbecue sauce.

 

Serve hot.

 

Enjoy!

 
Tip
Swaps and substitutions 
Instead of barbeque sauce, you can also make a simple tomato sauce and serve it with spaghetti as we know it from the iconic scene in Disney's "Lady and the Tramp".
You'll need a can of Roma tomatoes (or any kind of plum tomatoes), 3 gloves of garlic (minced), olive oil, and a bay leaf. Combine all the ingredients in a pot and let it simmer for 30 minutes until the tomatoes break down. Season with salt, pepper, and a pinch of sugar. Add the meatballs to the tomato sauce, and let it soak the flavors for a couple of minutes before serving it on top of spaghetti. 
You might also like: Tagliatelle with Pork Luncheon Meat in Tomato Sauce  
You can also use the meatballs in an Italian meatball sandwich. For this delicious sandwich, you need a lightly toasted baguette, meatballs in tomato sauce, and melted cheese such as parmesan or provolone. 
Fun facts about meatballs 
No one really knows where meatballs originate, and many countries across the entire world have their own version of the dish.  
Most recipes have in common that they consist of ground meat, onion, breadcrumbs or flour, eggs, and seasoning. In this recipe, the meatballs are steamed, but other recipes will suggest that you fry them or bake them in the oven.