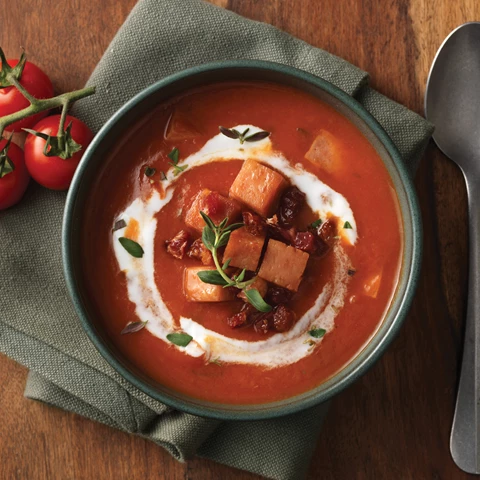 Pork Tomato Soup
Ingredients
200 g Tulip Jamonilla®
65 g diced bacon
1 onion
1 tbsp wheat flour
2 tsp paprika
5 sprigs thyme
2 cans of chopped tomatoes
0.75 l vegetable stock
2 tbsp sour cream
Vegetable oil
Salt
Freshly ground pepper
Print recipe
Instructions
Fry the meat 
Dice the

pork luncheon meat.

 

Place the diced bacon on a cold sauté pan or in a pot with a bit of oil and turn it up to medium-high heat.

 

Cook the bacon until it starts to become golden. Add the diced

luncheon meat

and fry until all the meat is crispy and golden. Remember to flip the meat occasionally to avoid it sticking to the pan.

 

Let the bacon and

pork luncheon meat

drain on a paper towel. 

 

Pour the fat from the pan into a bowl and save it for later use. Wipe off the sauté pan. 

 
Make the soup 
Chop the onion and thyme. 

 

Prepare the vegetable stock and set it aside.

 

Heat up some of the saved fat in a sauté pan or a pot and add in the onion. Sauté until translucent.

 

Sprinkle wheat flour over the onion and stir. 

 

Add the chopped thyme and paprika and mix it well. 

 

Add the two canned tomatoes and the vegetable stock. Let it simmer for the next 15-20 minutes. Stir regularly. 

 

Blend the soup in a blender or with a stick blender until it is completely smooth.

 

Stir in the sour cream and heat up the soup before serving. 

 

Arrange the soup in bowls topped with bacon,

pork luncheon meat

, sprigs of thyme, and a spoonful of sour cream. 

 
Tip
Swaps and substitutions   
Add fresh basil after blending the soup for the first time. Blend again until the basil leaves are broken into tiny pieces, add more if desired. Fresh basil adds a refreshing taste which is great for warmer days where you fancy something lighter.
If you want an even more filling version of the tomato soup, simply add pasta. The best type of pasta for soup is spaghetti, tortellini, or fusilli but you can use whatever kind of pasta you have at home.