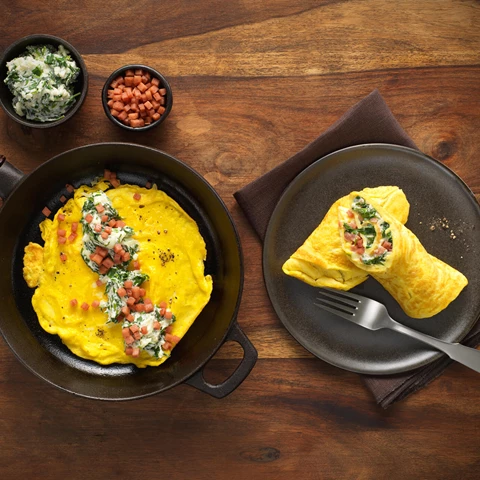 Egg Omelette Rollswith Pork Luncheon Meat, Cheese, and Spinach
Ingredients
200 g Tulip Jamonilla®
200 g spinach leaves
200 g cream cheese
200 g grated cheese
1 clove garlic
8 eggs
Salt
Freshly ground pepper
Water
Oil
Print recipe
Instructions
Preparing the filling  
Dice the

pork luncheon meat

into small cubes. Chop the garlic finely, and rinse and drain the spinach leaves.  

 

Heat some oil in a small nonstick frying pan over medium heat. 

 

Fry the

pork luncheon meat

cubes, stirring occasionally, for 3-5 minutes until the meat turns golden. Push the meat to the side of the frying pan. 

 

Fry the spinach leaves on the other side of the pan until they collapse. Take off the pan and let the spinach cool down before chopping it. 

 

Combine cream cheese, grated cheese, chopped garlic, fried

pork luncheon meat

, and spinach in a big bowl. 

 
Cooking the omelet  
Prepare one omelet at a time. This recipe is for 4 omelets.

 

Whisk two eggs and a tablespoon of water in a bowl. Add salt and freshly ground pepper. 

 

Coat a non-stick pan with oil and heat over medium heat. 

 

Add the egg mixture and fry until it stiffens and turns golden brown on one side. Flip over and fry until thoroughly cooked. 

 

Transfer the omelet to a plate. 

 

Add the fried

pork luncheon meat

and the cheese and spinach filling to the middle of the omelet and roll it. 

 

Prepare the remaining 3 omelets in the same way. 

 

Serve hot and enjoy!
Tip
Swaps and substitutions  
In this recipe, we add the cheese and spinach mixture after making the omelet. Another option is to add the mixture to the beaten eggs before frying. This will make the cheese melt and give you a creamy and flavorful omelet. No matter which way you choose to cook it, you'll have a delicious meal.  
Delicious omelet fillings 
Omelets are great if you have eggs and vegetables that are running out of date. If you want to vary your omelet filling, try one of these ideas: 
Make a delicious fluffy omelet with coconut milk, peanut butter and

pork luncheon meat

inspired by some of the signature flavors in the Asian cuisine.

Try a classic omelet with ham and cheese. You simply need diced

pork luncheon meat

and lots of cheddar cheese for this filling. Enjoy the dish any time of the day – for brunch, lunch, or dinner.