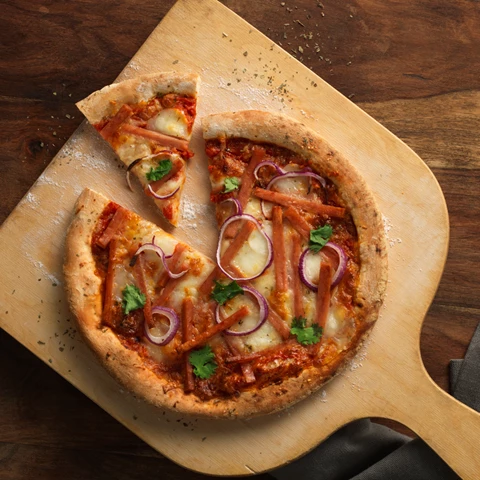 Pork Luncheon Meat pizza
Ingredients
Pizza dough, 2 pizza base
20 g Yeast
300 ml Water
500 g Italien flour type 00
1 tsp Olive oil
Flour
Baking paper
Pizza topping
680 g Tulip Pork Luncheon Meat
1 tbsp Olive oil
1.25 dl. Tomato sauce
2 tbsp Shredded gouda cheese
5 dl. Shredded mozzarella cheese
0.5 dl. Red onion(s)
1 tbsp Fresh coriander
Print recipe
Procedure
PIZZA DOUGH:
Stir the yeast into lukewarm water.
Sieve the flour into a large bowl and mix with salt. Make a hole in the middle of the flour, pour in the liquid yeast and the olive oil and mix.
Knead the dough until smooth on a flour-sprinkled surface.
Let the dough rise in a warm place to double its size (approx. 1-3 hours).
Roll or stretch the dough into pizzas and let them rise in a warm place, covered with a damp cloth for 30 minutes.


PIZZA TOPPING:
Use a large spoon to spread the tomato sauce evenly over the surface of the pizza base to the rim.
Sprinkle the two types of cheese over the sauce. Keep some of the cheese for later.
Cut the Tulip Pork Luncheon Meat into strips of 5 x 0,5 x 0,5cm and distribute evenly over the cheese. Slice the red onion. Distribute it evenly and add the rest of the cheese on top.
Set the oven to 450 °F / 230 °C. Cover a baking tray with baking paper.
Transfer the pizza to the oven and bake until the crust is crisp and golden and the cheese at the center is bubbling (about 8-12 minutes).
Carefully remove the pizza from the oven and sprinkle freshly chopped coriander on the top. Slice and serve.