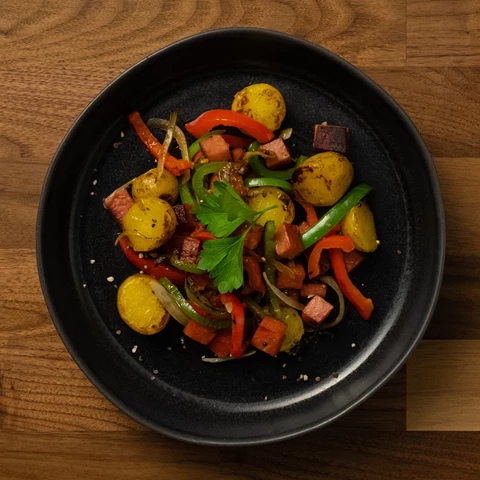 Pork Luncheon Casserolewith Vegetables and Potatoes
Ingredients
340 g Tulip Jamonilla®
10 baby potatoes
3 cloves garlic
1 green bell pepper
1 red bell pepper
1 onion
Oil
Salt
Freshly ground pepper
Print recipe
Instructions
Prepare the ingredients 
Wash the baby potatoes, mince the garlic, cut the bell peppers into strips, and chop the onion. Dice the

pork luncheon meat

.

 

Boil the potatoes, whole with skin, in lightly salted water for 12-15 minutes or until tender. You can use a fork to check if the potatoes are done. 

 

Turn off the heat and drain the potatoes, so they stop cooking. Let them cool down before cutting them in half.

 
Bring the pork casserole together 
Add some oil to a sauté pan and fry the meat over medium heat until it caramelizes and turns golden brown.

 

Add the garlic, onion, and bell peppers.

 

Add the halved baby potatoes to the pot with the other ingredients. Sauté for a few minutes until golden.

 

Season the casserole with salt and freshly ground pepper.

 

Enjoy!

 
Tip
Serving suggestions 
Add a can of diced tomatoes and some cream to make the pork casserole creamy.
Food preparation is key in a busy week. You can easily prepare the pork casserole in advance and store it in the freezer in individual portions. In this way homemade meals are just as convenient as any fast-food!