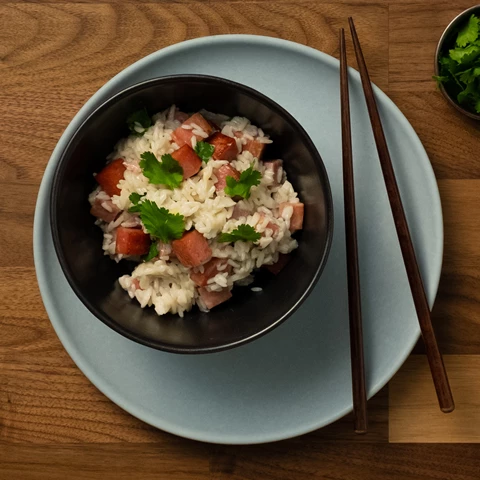 Pork Luncheon Meat and Ricewith Coconut Milk and Ginger
Instructions
How to cook rice  
Measure the desired amount of rice. For most types of rice, you'll need 1 cup of rice to 2 cups of water, which you can scale up or down. 

 

Rinse the rice to get rid of dusty starches. 

 

Place the rice in a fine-mesh strainer and rinse under cold water until the water from the rice becomes clear. 

 

Bring water to a boil at high heat. 

 

When the water is boiling add rice and salt. 

 

After adding the rice, the temperature of the water will drop, and it will stop boiling. Wait until it is back to a gentle simmer. Then reduce the heat to low and keep the lid on. 

 

Set a timer for 12 minutes.

Turn off the heat and let the rice rest for five to ten minutes with the lid on. 

 

Put the rice aside to cool.
Make the wok  
Chop onion, garlic, and ginger finely. 

 

Roughly slice the

pork luncheon meat.

 

Heat one tablespoon of vegetable oil in a wok or large nonstick frying pan over medium-high heat. 

 

Add the vegetables and meat to the pan and sauté together.

 

Once the vegetables soften, add rice and coconut milk, and let it simmer for a few minutes. 

 
Serving 
Serve the meal hot with finely cut cilantro on top.

 

Enjoy!
Tip
Swaps and substitutions 
This dish tastes great cold as well. If served cold, we recommend serving it with a fresh Asian salad with shredded red cabbage, carrots, bell pepper, broccoli, and snow peas.