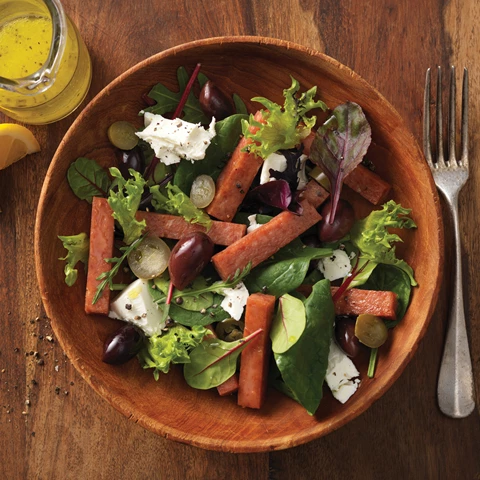 Luncheon Meat SaladWith Feta and Olives
Ingredients
340 g Tulip Jamonilla®
100 g feta cheese
2 tbsp olive oil
2 tsp lemon juice
Breadcrumbs
Green pickled chilies
Black olives
Vegetable oil
Salt
Freshly ground pepper
Print recipe
Instructions
Slice the

pork luncheon meat

into thin strips. 

 

Make a bowl of crushed breadcrumbs and coat the strips in breadcrumbs and freshly ground pepper. 

 

Heat some olive oil in a non-stick pan over medium-high heat. Add the

pork luncheon meat

cook until it caramelizes and turns golden brown. 

 

Slice feta and green pickled chilies and cut the olives in halves. 

 

Mix olive oil, lemon juice, salt, and pepper together in a bowl.

 

Mix the breaded

pork luncheon meat

, olives, feta, and peppers in a bowl and drizzle the homemade dressing.

 

Enjoy!
Tip
Swaps and substitutions  
If you're making this salad in the summer, consider adding some of the vegetables that are in season. On a hot summer day when you are craving something fresh add tomatoes, cucumber, green bell pepper, red onions, and avocado. These vegetables will make the salad even more filling.